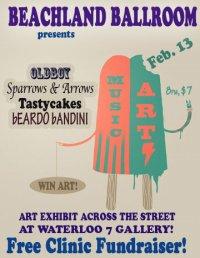 Artists Give More Than Inspiration

Friday, February 13, 2009!

Waterloo 7 Gallery and close neighbor Beachland Ballroom have teamed up to create an art and music fundraiser for The Free Medical Clinic of Greater Cleveland. On Feb. 13th, sculptor and gallery owner Jerry Schmidt, along with over 10 other artists including Fine Art America artist Katherine Fernie, will donate a piece of art, sculpture, or hand-made jewelry to the Free Clinic.

The donated pieces will be on display at the Beachland Ballroom and raffled off at 8:00 before the show. Across the way at the Waterloo 7 Gallery, even more art will be on display, and 10% of sales will go to the Free Clinic.

On the Beachland Ballroom stage, artists that play-to-raise include Oldboy, Sparrows & Arrows, Tastycakes, and Beardo Bandini. Tickets are $7 at the door for this all ages show. The bands play 9 to midnight, and the nearby gallery will stay open for an hour after the show for an after-party...